Volunteer Opportunities Directory:
Our volunteer opportunities support individuals to find suitable placements and opportunities and provides advice to organisations on how to set up and manage a volunteering programme. If you are looking to give something back to the local community or perhaps take the first step on a new career pathway, then please check out the opportunities below.

Football Futures
The FA Football Futures Leadership and Volunteering programme aims to recruit, retain, develop, reward and provide a progressive pathway for young leaders in order to develop a skilled football workforce. The young leader is placed at the heart of the FA Football Futures programme choosing what, where and how they wish to volunteer in football across six football themes.

Contact Details:
Howard Shaddick
01626 325 913

Devon FA,
Coach Road,
Newton Abbot,
TQ12 1EJ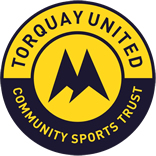 Torquay United Volunteer Opportunities
TORQUAY United Community Sports Trust exists to provide opportunities for all sections of our community, using sport and healthy living to drive up aspiration and participation. We pride ourselves in showing professionalism in everything we do, offering a consistent quality service, building new partnerships across the community and working closely with Torquay United Football Club.
It is a great honour to be the charitable arm of Torquay United, celebrating the rich history of our football club, while forging a new and inclusive relationship with the whole community. We want to grow engagement with all sectors of society and use the incredible power of sport to inspire people of all ages and abilities to reach their personal goals.

Contact Details:
Jamie McInnes
07769 260 557

Torquay United Community Sports Trust,
Plainmoor Stadium,
Torquay,
TQ1 3PS